MiaoCrafts - Brochure Site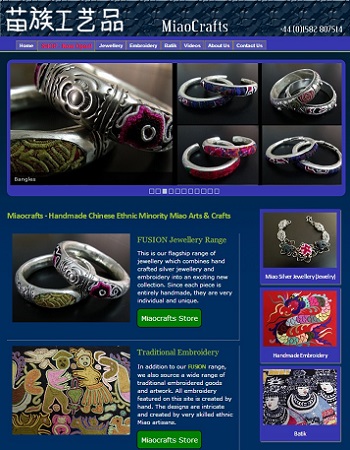 ---
Summary of skills used:
---
XHTML
CSS
PHP
SEO - Keyword Research, Adwords Campaign
---
Project Brief:
This site was originally designed as a promotional tool to showcase a selection from the Miaocrafts catalogue, mainly for potential trade partners.
The site has subsequently been expanded and a subdomain is used for a related Ecommerce venture. Details of the Ecommerce project can be found on the Portfolio page.
---
Key Points
The site is hand-coded and designed to be primarily static to showcase the range of products available to trade buyers. Common elements of the site (e.g. the header, navigation menu and footer) are held in a single location. This facilitates ease of maintenance, since any changes to these elements are immediately reflected site-wide.
The colour scheme was chosen to represent use of indigo dye by the Miao people. Some pages have a two-column design, while others are single-colum with feature panels for product photos. Clicking an individual product image produces an enlarged "lightbox" image (an image displayed in the foreground, with the website background greyed-out).
The site home page features a "slider" panel. This has been used to display products from different categories within the site. It scrolls automatically, but can also be scrolled and navigated manually. Clicking a slider image directs the user to a specific category of product.
SEO work was undertaken to identify keywords and increase the quality of landing pages for adwords advertising. This helped to reduce the cost per click of the subsequent adwords campaign. Short videos were also produced to help with search engine exposure. It is expected that informative articles will be added in the future to encourage further natural traffic from the search engines.